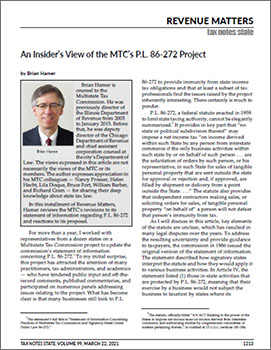 In the fall of 2018, the MTC's Uniformity Committee tasked a work group consisting of representatives from a dozen states to update the "Statement Concerning Practices of the Multistate Tax Commission and Signatory States Under Public Law 86-272."  The Statement was last revised in 2001.
 
In this article, Brian Hamer, MTC counsel, describes the  proposed revisions to the Statement and the path that the work group pursued to reach the decisions they made.  He also responds to criticisms that have been raised to the proposed revisions and explains why those criticisms are not well founded.  
 
The Commission will consider adopting the proposed revisions for recommendation to the states at its 2021 annual meeting in August.
Click here 
, to read the article, originally published in the March 22, 2021 edition of State Tax Notes, by Brian Hamer.